How Blasphemy Laws Cause Infringement Of Fundamental Rights 
Courts hearing Section 295-C cases, however, have not required proof of intent beyond a reasonable doubt in order to convict a person of the offense. This is true even though the Federal Shariat Court in 1990 ruled that blasphemy under section 295-C was an "intentional or reckless wrong", in which the men's rea amounts to "intention, purpose, design, or at least foresight."
The conviction of an individual in the absence of proof beyond a reasonable doubt of all elements of a crime, including the requisite intent, would violate the presumption of innocence and consequently the right to a fair trial.
Asia Bibi Case: Asia bibi was arrested in June 2009 on charges of blasphemy. She was held in pre-trial detention for over sixteen months before a trial court found her guilty in November 2010 and sentenced her to death. She appealed to the Lahore High Court, and it took nearly another four years for her appeal to be decided. In November 2014, Asia Bibi appealed to the Supreme Court, and it took a further eight months for the Supreme Court just to admit her case for hearing. By any standard, this period of time, all of which was spent in custody violates her right to be tried within a reasonable time.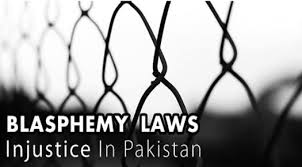 Asia bibi's case is not an exception. The average time between arrest and trial in blasphemy cases is between two to three years. In many cases, the accused is not granted bail, and thus is held in custody throughout this pretrial period, implicating their rights not only to trial within a reasonable time, but also the rights to liberty and the presumption of innocence. 
Wajih-ul-Hassan v. The State: At the end of September, the Sup­reme Court acquitted a man who had been condemned to death in a blasphemy case in 2002 and had consequently remained behind bars for 18 years.  Wajih-ul-Hassan has spent over 17 years in prison mere on allegations.
A case was registered against Hassan in 1999 for writing blasphemous letters to a lawyer. In 2001, a handwriting expert in his report said that the writing of the accused closely matched with the letters in question, following which the trial court convicted Hassan and awarded him a death sentence. The decision was later maintained by the Lahore High Court as well. 
From the study of the above cases, it is prima facie that blasphemy laws cause violations of rights to equality and equal protection of the law as well as due process and fair trial through the failure of administrative and judicial organs of the state.