The host of Jimmy Kimmel Live! announced a positive coronavirus test through twitter on Monday, April 3rd.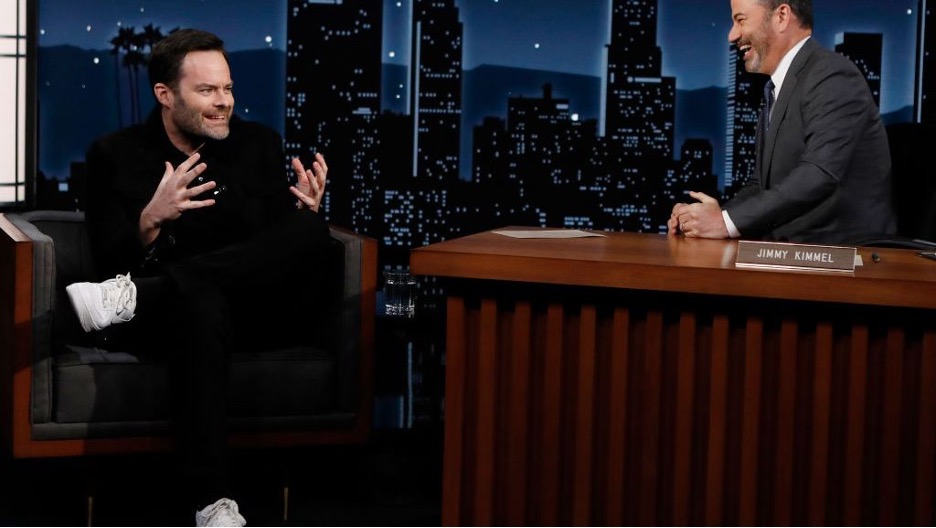 The Show Continues
His tweet read "Our daughter brought us COVID (even though we specifically asked her not to)," Kimmel tweeted. "All feeling fine, I am double vaxxed and boosted but the show must not go on. Apologies to @TomCruise & @iliza and thanks to Mike Birbiglia @birbigs who'll be filling in for me starting tomorrow night."
His replacement host joked about filling in for Kimmel, saying that he found out about the gig right after he got off a plane and was probably the first person to have that experience. He sent his love to the family and announced his tenure on the show in his tweet.
Kimmel isn't the only late-night host to recently announce a positive covid-19 test. Stephen Colbert, James Corden, Jimmy Fallon, and Seth Meyers have all, in the last few months, announced their positive tests. That's a lot of late-night television hosts.
Kimmel did not seem bummed about the positive test, though. He stayed positive and mentioned that he is not feeling poorly despite the diagnosis, which has not been the case for everyone, including those who are vaccinated.
Many of Jimmy's entertainment industry friends wished him well and speedy recovery, including Stephen Colbert. He tweeted that the television industry is down a Jimmy and asked the president to open the Jimmy reserves. Similar jokes came from other corners of the entertainment industry as news broke about Kimmel's diagnosis and the lack of severity there. Because his symptoms were mild to nonexistent, plenty of jokes have been made at his expense.
This is obviously a different time for coronavirus cases than over the past two years, as many politicians and comedians have been lambasted for making light of people contracting covid. As the pandemic reaches endemic stages, most of the cases are not so severe, with far fewer serious cases than previously.
Coronavirus Affecting All Sectors of Entertainment Industry
The film, video game, music, and other entertainment sectors have been hit very hard by the coronavirus, still reeling from two years of restrictions and many instances of employees becoming ill.
A lot of the entertainment industry has attempted to try alternatives to traditional means of reaching customers. Movie theaters had to close down during much of the pandemic, and movie studios sought out streaming platforms to get their movies out there and try to recoup some of the money they had spent in developing them. Disney did this with Mulan, which was one of the first major film released during the pandemic, and it never released in theaters in the United States. Black Widow did the same thing, and both of these movies struggled to make back the money spent on them.
Numerous musical tours had to be canceled as well, including tours and events by Evanescence, Coldplay, Megan Thee Stallion, Jon Bon Jovi, Travis Tritt, Backstreet Boys, Charli XCX, KISS, BTS, and more.
Many video games have been delayed due to the coronavirus, with Cyberpunk 2077 being pushed back numerous times, as well as Outer Worlds, Someday You'll Return, Far Cry 6, Hellpoint, Battlefield 2042, and numerous others.
A lot of the customers for these products simply found alternatives. As casinos, sporting events, music festivals and more closed down, many people stayed home and livestreamed events or found online entertainment of some kind. We saw a massive surge in gamers for สล็อตเว็บใหญ่ที่สุด, online games, streaming services (like Netflix, Disney Plus, and HBO Max), and streamed live events. People were simply content to consume their media at home from the safety and comfort of their couches.
Part of the reason this shift happened in such a big way is that internet speeds are generally high across the United States. Another reason is that streaming options have greatly improved over the last few years. In addition, most people have screens in their homes that can produce better quality pictures than what they could see on a big screen in the theater. They managed to avoid the crowds, stay away from covid-19, save some money, and still get the entertainment they wanted.